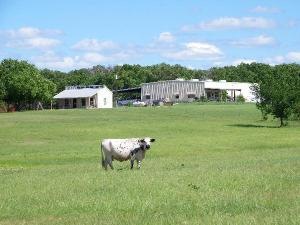 This page of our website will be used to
keep folks apprised of the "goings on"
here at the ranch...from the perspective
of Snowflake - the official ranch "Watch
Cow."

Basically anything we (or she) thinks
is important or newsworthy.

So check back often to see what's
happening in and around our home at
Shadow Ridge Ranch - or elsewhere!


Things are pretty much back to "normal" at the Ranch. Members of the cattle herd continue to have calves. Calves continue to grow up...and some make the great truck ride north to the sale barn to (hopefully) make other folks' herds grow and thrive.

Mark continues to play with motorcycles (Gale think he's entered into his second teenage years as opposed to his second childhood). He now has a collection that would make small museums proud! His latest project is restoring a 1937 Indian Scout. He also has done a frame-up restoration of a 1971 BMW R75/5 and sidecar rig - and is now working on a frame-up restoration of a 1977 BMW R100/7. Whenever he can get away, Mark rides motorcycles with his son and friends and pretends to be "Easy Rider." If only he could easily figure out which motorcycle to take!

Gale continues to work on websites and other projects for local people and businesses through Shadow Ridge Graphics. In her "spare time" she does mortgage audits, paints, writes and does photography. She continues acting as President of the Chisholm Trail Art Association - and has recently joined a photography club. Along with her co-conspirator and author-friend, Treva Dawson, she has written two books ("Memories Along the Chisholm Trail" and "Reflections in Two Voices" - both of which are now available through Amazon.com or the publisher. Book tours now are taking up a great deal of that previous "spare time," and Gale and Treva are already plotting their next book. When Gale can get away, she spends time with her family in Idaho or California for a fall getaway.

| | |
| --- | --- |
| | |
| | |